Skip to content
The simple way to save on public sector printing
Compare printing prices from trusted suppliers – quickly and simply. Then easily track your print-projects right through to delivery.
request a demo
create account
Easy and intuitive
Guides you step-by-step through your entire print-buying journey
Design your way
From beginner to expert – supported by our talented designers or via a simple online self-design tool
Sector-specific expert advice
Live chat functionality – our print experts are always on hand to assist you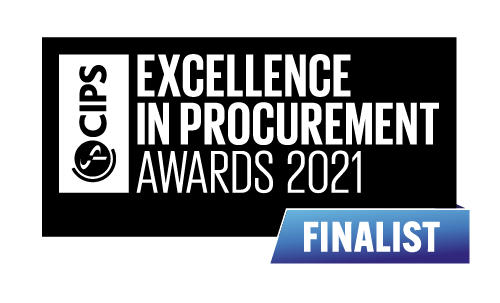 Proud to be a finalist in the category - Best initiative to build a diverse supplier base.
How it works
Simple, effective and quick - get the job done, whatever your sector
Specify your print and design requirements
Choose from a range of competitive prices
Prepare to receive your order
Print Marketplace highlights
Quote comparison feature
Obtain live supplier quotes
Customise your comparison listings
Instant pricing shows most competitive rate as well as carbon impact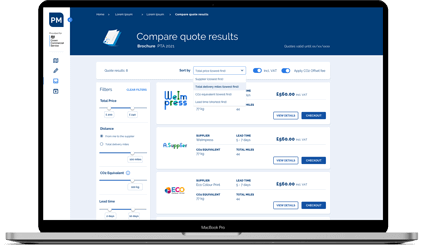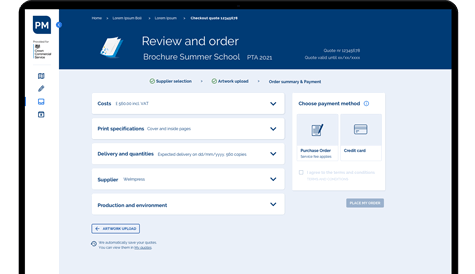 Visibility of order progress from print specification to delivery
Useful auto-save feature, to stay on track simply and quickly
Instantly go to last saved progress
Statuses refresh regularly to keep you up-to-date
Design services
Choose your way to design
Bespoke design supported by our experts
Create own design using our online tool
Automated pre-flight artwork checks ensure accuracy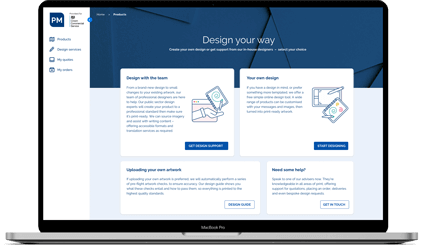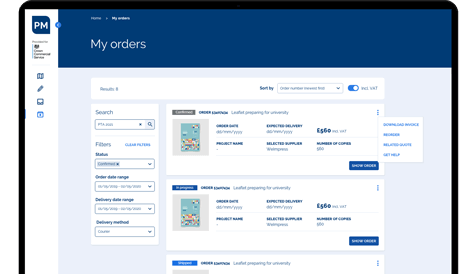 Retained order history
Saves time on repeat purchases
Easily manage budgets
Access to a wider selection of pre-approved suppliers
Nothing to install, no licence needed
Competitive and transparent commercial platform
Option to retain preferred local suppliers